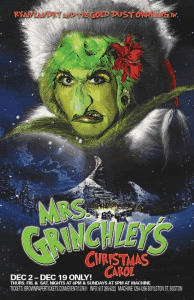 Ho! Ho! Ho! The holiday season is officially upon us. Assuming you weren't trampled to death by a Black Friday mob, you're probably ready to go out and enjoy some holiday festivities. Well there's plenty to choose from, but if you're like me, you'd rather not bother with the traditional fare. You'd rather set your sights on events that challenge the traditional view of the most sacred of American family traditions and provide a little comedic stress relief. Here are a few of my favorites happening around the country. If you're lucky, one of these events might just be in your neck of the woods.
Dina Martina Christmas Show 2010 – Seattle, WA – Dina Martina is a bit of a legend here in the Seattle area. Conceived by Grady West, Dina has been described as a "train wreck in heels" and is known for horrifying costumes (including inappropriately revealing sweat pants), bizarre dance routines and a surreal stage show that must be seen to be understood. Dina loves handing out gifts to the audience as well, so expect to come home with something that you never knew you needed. Dina's garnered praise from folks like John Waters, Margeret Cho and Matt Stone, so if you're in the Pacific Northwest this holiday – DO NOT miss Dina! Tickets available here.
[youtube=http://www.youtube.com/watch?v=OqYw5ZQU6Mk&w=480&h=385]
The Santaland Diaries – Cincinnati, OH – In Cincinnati they're putting on a production of David Sedaris' "Santaland Diaries" which chronicle David's hilarious adventures as an elf in Macy's SantaLand display. Originally read by David on NPR's "Morning Edition" this story provided him with his first major break and was later featured in the books "Barrel Fever" and "Holidays on Ice." It was adapted to theater by Joe Mantello and has since become a staple of regional theater. Anyone familiar with David's writing know to expect a particularly snarky take on the holiday season! Never heard of David but need a humorous perspective on the holiday? Head out to the Columbia Performance Center and experience what Christmas is like as Crumpet the Elf. Tickets available here.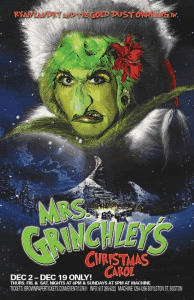 Mrs. Grinchley's Christmas Carol – Boston, MA – The Gold Dust Orphan gang is back with an all new Christmas show. Loosely based on Dicken's "Christmas Carol" this show follows the shenanigans of the Grinch's booze-hound spouse as she takes on the role of Scrooge and travels with spirits (both liquid and ghoulish) through "her grossly checkered past, her absolutely rancid present and finally…far into her gruesome future." Not only that, there's appearances by Liza Minelli, Justin Beiber, several gay male strippers, and a crippled dog named Teeny Tiny Tim! This is the holiday event de rigueur of Boston's hip and happening set and tickets are going fast for December performances. Tickets available here.
Of course, tickets for these events are available at www.brownpapertickets.com and I encourage you to pick some up soon as they will surely go fast.
Are you throwing your own wacky and wild holiday extravaganza or have a local event that adds a new twist to the yuletide season? Let us know about it, even better, let us sell tickets for it. We love spreading that holiday cheer around! Post your event now at http://www.brownpapertickets.com/postevent.html