In this special, two-part series, James Ulness, Brown Paper Tickets Client Services Representative and an avid, enthusiastic member of the Seattle burlesque community, prepares to make his début as a boylesque performer. James has been a regular presence backstage at local burlesque shows for years but this will be his first foray onto the stage.
Over the years I've spent quite a bit of time working around the edges of the burlesque world. I've written about shows, photographed them, worked backstage, constructed props and have even been a prop myself. But one thing I have never done is perform onstage. It's something I've always wanted to do and planned on doing but never quite got around to it. "Someday," I told myself, "Someday I'll get up on that stage and I will be amazing." It took a lot longer than I thought it would but that day has finally come. Or rather, that day is March 22, 2014.
One of the philosophies I try to live my life by is the idea that you should never ask other people to do something you aren't willing to do yourself. And with all the time I've spent around burlesque it would be hypocritical of me to not put myself on a stage. But there was a problem. I had absolutely no idea where to start. The logical starting point would be to take a burlesque class, which is what I was planning on doing as soon as my schedule permitted (and I still recommend it for anyone who whats to jump into burlesque). But while I was pondering when and where to go to burlesque school opportunity came knocking at my door. Chameleon Productions, one of the groups I've gotten to know in my time hanging around burlesque folks, announced that they were accepting submissions for there new production, Morsels for a Mongrel.
I decided that I wasn't going to let a little thing like not knowing what the heck I was doing stop me from doing something that I've wanted to do for years. So, without anything but the vaguest idea about what I was going to do, submitted my act. Most of the act I submitted I made up on the spot while I was typing, pulling details out of the air like a magician materializing scarfs. At the beginning of the process my act was some kind of odd Doctor Who strip tease, but within a few minuets it had evolved into an act where I was playing a lion tamer with spiders crawling in my clothes.
With something of an act submitted and accepted it was time to figure out how I was going to do all of the things that I said I was going to do. I started researching other shows to come up with some inspiration but, though I found a lot of shows I waned to see, I didn't come up with much for my own act. The more I thought about it the more I realized that I was going about it all wrong. studying what other people have done was a good start but this needed to be an act for  me to perform. I needed to put together an act that I can be proud of. Something that says something about who I am as a performer. Something that I can get excited about and have fun doing. Otherwise, what would be the point in doing any of this? So I thought to myself "What would I like to see me do?" And then it all started to work, somehow. The scattered pieces of my act began to combine into a Burlesque-Voltron made out of a top hat, red jacket, Johnny Cash's cover of "Personal Jesus", a bow tie and a couple of rubber spiders thrown in to make it interesting.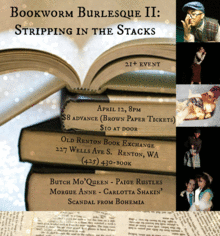 A huge challenge in putting my act together was making sure that it could stand up next to the other, more experienced performers that would also be there. I will be going on stage along with Scandal from Bohemia, Suri Reale, Morgue Anne, Sibyl Darling, Fae de la Celeste, Betty Fish and will be hosted by Kama Sintra. The show will also feature music from the Mongrel Jews. Two of the shows performers (Morgue Anne and Scandal from Bohemia) will be performing in the upcoming show Bookworm Burlesque II: Stripping in the Stacks on April 12th. and the Mongrel Jews have been around since 2010. Every person in this show is an amazing performer and I've become a fan of all of them over the years. It's both exciting and terrifying to think that I'm going to be on the same stage as these fantastic artists. As a result, preparing this act has become a huge part of my life. Every detail has been planned, studied, choreographed and rehearsed. Wires have been rigged, costumes have been sewn, various thongs purchased and their individual attributes compared. I've even learned how to properly tie a bow tie (a bigger pain in the neck than I anticipated). The show itself is a benefit for Mongrel Annie (a member of the Mongrel Jews) who is attending school to become a veterinary technician and will shortly be starting her externship. Proceeds from the show will go to helping her pay for rent, cat supplies, food and other things that are necessary to sustain human life while she is studying ways to save animal life. It's a worthy cause that adds to my desire to perform the best that I am capable of.
As the day of the show approaches (there are only a few days left) Part of me wonders if I have what it takes to pull this off. I'm nervous about making my debut but I know that I will be amazing. With luck this will be the first of many burlesque performances that I get the opportunity to create. Already my mind is filling with clouds of inspiration for my next act. I can't wait to find out which of them will solidify. There are unseen props, songs and costumes floating through the ether, waiting for inspiration to cast it's net and drag them in. But for the moment I need to get ready for Morsels for a Mongrel. I've still got rehearsing to do and bow ties to tie. The next thing will have to wait.
Stay tuned for next week's edition, Diving in Part 2: the aftermath.