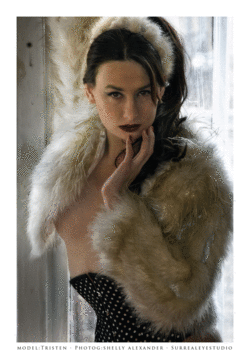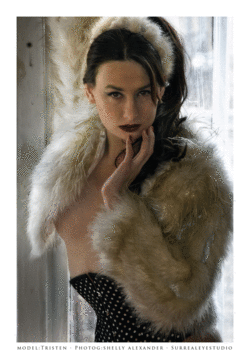 This week on the Tuesday Tease, we feature a review of Seattle-based Gossamer Wing Productions' August installment of the monthly show "Sanctuary." Gossamer Wing Productions was formed by burlesque performer/producer Whisper De Corvo, an up-and-coming face on the Seattle burlesque scene and "Sanctuary," though relatively new, is already drawing some of Seattle burlesque's top talent, so Whisper must be doing something right! We love working with inspired producers like Whisper and if you're in Seattle we highly encourage you to check out her shows.
Our resident burlesque field correspondent James Ulness was on hand to witness the show and here's what he had to say about it:
On Sunday, August 11, I was fortunate enough to be witness to Gossamer Wing Productions, amazing, August performance of Sanctuary at the Narwhal (in the basement of the Unicorn).
My evening started when I arrived at the Unicorn, on Seattle's Capitol Hill. After entering, I made my way downstairs into the sideshow festooned, pinball haven that is the Narwhal. I made a brief detour to the claw machine, ordered my drink and found a seat at a beautiful, skull-painted table. After a short wait the host, Mr. Bawdy, took the stage and began two hours that were filled with every style and variety of act that you could ever hope for, from four absolutely amazing performers!
The first performer out of the gate was Miss Kitty Baby, decked out in orange fringe and armed with a black boa. She performed a classic burlesque act, with classic burlesque style. A perfect way to begin the show.
Next came Whisper De Corvo with a slow and sensual striptease that was both haunting and incredibly beautiful.
Whisper set the stage for Paris Original,  the only boylesque performer for the evening. He brought a massive amount of talent for dance and has a stage presence that is difficult to put into words. He's a performer who really must be see in person.
The final performer for the night was Iva Handfull, who stepped out on stage in reptilian vinyl, from head to toe. she proceeded, over the next few minuets, to shed her skin in a way no snake could ever dream of.
After the intermission the four of them took the stage again. They each presented two acts that night, and I would have loved to see another twelve! This was one of the most inspiring shows that I can remember seeing in a very long time. It really was a shame that it had to come to an end. However, all is not lost! Sanctuary will return to the Narwhal on Sunday, September 8, with a new cast of amazing performers, including Waxie Moon, Randi Rascal, Kylie Koyote, and Whisper De Corvo.
Reviewed By James Ulness
___________________________________________________________
Hey Seattle burlesque fans! Want to see performers from Sanctuary's August instalment in some other shows around town? Check out Whisper, Iva, Miss Kitty Baby and others in these upcoming shows:
Saturday, August 31 I The Dirty Nerdy Revue, PAX PRIME edition – Please join D20 Burlesque (NYC) and Gossamar Wing Productions (Seattle) as they team up to bring you an evening of sexy, weird, and exceptionally geeky burlesque guaranteed to be a critical hit! Join them this Saturday at the J and M Cafe for a celebration of all things nerd, with acts themed around comics, video games, movies and more! In celebration of the PAX Prime takeover of Seattle, this evening will feature nearly naked nerdy New Yorkers: Anja Keister – The Dicey Dame of Burlesque, Iris Explosion – Burlesque that will blow your mind and Stella Chuu – The Anime Princess of Burlesque. Plus smart and sexy Seattle style striptease courtesy of  Iva Handfull -the 2013 Queen of the Kansas City Burlesque Festival and Whisper De Corvo – Seattle's Mythic Muse.
Friday, September 13 I N3RDZ! – Purple Devil Production's annual gala of geek returns for its third year with nerdy homages to pixelated video games and Police Call Boxes, an evening of geeky adulations of board games and eldritch horrors. They will pay deference to comic books, the small screen, and even interactive works of fiction. Purple Devil invites you to let your inner nerd take the spotlight and love those things without apologies. Come see these geeks in their natural habitat: Iva Handfull, Whisper De Corvo, Violet DeVille, Scandal from Bohemia and Pervert Hero, Mitzy Sixx, Ivy DuPri, Cherry Tart, Miss Minni Bobbins, Maggie McMuffin, Tawdry Quirks and Jesus la Pin.
Saturday, October 12 I Stripped Screw Burlesque presents: Keep It Up!! 2013 – It's Stripped Screw Burlesque's 4th anniversary, and they want to show you their birthday suits! Join the sassy, scintillating ladies of Stripped Screw for Keep It Up!! – a dazzling birthday suit salute and sizzling showcase of their Screw'd friends at Columbia City Theater. This year's festivities are in honor of The Burlesque Hall of Fame (BHOF) and all proceeds will be donated to the museum. The Burlesque Hall of Fame is the world's premiere organization  dedicated to preserving the living legacy of burlesque as an art form and cultural phenomena. They'll be performing their fan's all-time favorite Stripped Screw acts and throwing in a few new birthday surprises including special guest appearances with all the irreverent gritty-glossy-glam-sexy performance stylings Stripped Screw fans have come to know and love. Starring Stripped Screw Burlesque: Kutie La Bootie, Lady Drew Blood, Seraphina Fiero, Stella D'Letto and Violet Tendencies with the illustrious Lord Richard Longfellow and the magnificent Man Johnson ably assisting. Special guests will include: Bolt Action & Scarlett O'Hairdye, Ernie Von Schmaltz, Jesse Belle-Jones, Miss Kitty Baby, Olatsa Assin, Iva Handfull, Paris Original, Trojan Original and Sydni Deveraux.