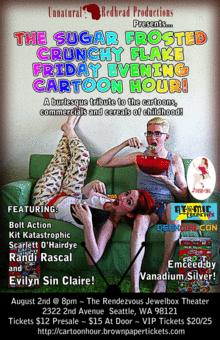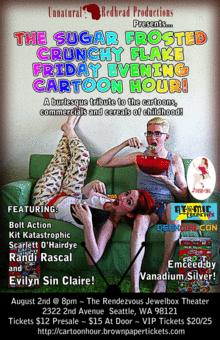 Sometimes, the only thing you need to do is read the title of an event to know that you are in for an amazing and unforgettable experience. Such is the case with The Sugar Frosted Crunchy Flake Friday Evening Cartoon Hour! happening next Friday, August 2 at the Rendezvous/Jewelbox Theater in Seattle.
The name alone is enough to give you a Saturday morning sugar rush that will last well into Monday afternoon! Producer, Scarlett O'Hairdye, has put together an amazing show fuelled by love, nostalgia, glitter, cartoons and breakfast cereal that is sure to conjure up fond memories of childhood while simultaneously reminding you that there are some things that are better appreciated as a grown-up.
Scarlett, who has produced burlesque shows in Seattle since 2012, drew inspiration for this production from a "love of the cartoons of [her] childhood" and put together a program of "many amazing acts that referenced those cartoons."
Scarlett says, "I wanted to bring them all together into one show and share that love with the rest of the world in the sparkliest way possible."
From the sound of it, she accomplished her goal and then some!
The evening's entertainment will be hosted by Vanadium Silver and feature performances by the "Wild Child of Seattle Burlesque" Evilyn Sin Claire, Randi Rascal, Bolt Action, Scarlett O'Hairdye herself ("The Nearly Naked Nerd") and, coming all the way up from Portland, Oregon: Kit Katastrophic. All will be presenting acts that pay tribute to and elaborate on memories and iconic imagery of our childhoods! Be ready to have your recollections of cartoons, TV commercials, breakfast cereal and Thundercats changed forever!

But wait, there's more! Those lucky enough to grab some of the, very limited, VIP and Ultra VIP seats in the the first two rows will receive, in addition to the amazing show, a gift bag filled with treats from the shows sponsors, Atomic Cosmetics, Pinup Girl Parties and GeekGirlCon as well as homemade baked goods and tiny boxes of breakfast cereal!
Speaking of "villainous kidnappers of youth,"* stay tuned to Scarlett O'Hairdye's producer page to find out when her next show, Boobs and the Bard: A Shakespeare Burlesque! goes on sale. This show is currently in pre-production so details are not yet available but the show will be going up in November and will feature a performance from New York's Iris Explosion.
*My apologies for misquoting Shakespeare.