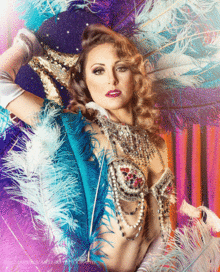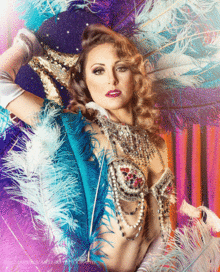 Everything at Brown Paper Tickets starts with the Event Producers. Without them there would be no events to ticket so it shouldn't be any surprise that new producers hold a special place in our hearts. This is why I'd like to take a few moments to recognize the new people who are with us today. These producer's may not be new to burlesque but they are producing their first (or second) events through Brown Paper Tickets. And we hope to be seeing much more of all of them in the months and years to come.
Norwalk, Connecticut
Wednesday, January 23 | A Beautiful Spectacle 2  Hosted by The FC Beat magazine and The Factory Underground Studios, this annual winter event brings together a Spectacle of arts in a state-of-the-art, 7,000 square-foot,underground studio, sound stage, and exhibition space in Norwalk, Connecticut. UPDATE! This event is now sold out. There may be tickets available at the door.
Seattle, Washington
Friday, January 25 | An Evening at Merlotte's: Burlesque Inspired by True Blood  You are cordially invited to a special night of music, burlesque and vampires with the citizens of Bon Temps! Come to one of two shows, either at 7 pm or 10 pm this Friday at the Highway 99 Blues Club for a celebration of all things "True Blood."
[youtube http://www.youtube.com/watch?v=uK1D9vGJePc]
Baltimore, Maryland
Friday, January 25 | Twisted Knickers in "Calendar Girls"  Be prepared for four seasons of sexiness with tributes to Halloween, Valentine's Day, St. Patrick's Day, 4th of July, Mother's Day, Christmas, Groundhog Day, Dio de Los Muertos, Back to School, Football Season and much much more.
Burlington, Vermont
Saturday, January 26 | Green Mountain Cabaret January Show 2013  Green Mountain Cabaret is re-introducing classic burlesque intermixed with variety acts with a locally-sourced modern flair. The brain-child of Vermont native and Chicago burlesque sensation Alexa Luthor and her partner in tease, Leif Peepers, Green Mountain Cabaret is staging another two shows of lyrics, laughs, and legs that you won't want to miss!
Philadelphia, Pennsylvania
Friday, February 1 | UrbanUtopia Presents: Evolusion  UrbanUtopia is a monthly burlesque event that combines traditional burlesque performances with live music performance and dance party.  A nightlife experience like no other for the young, open minded and diverse audience who are seeking something different, something fun and something with a little more class than your average night club.
London, United Kingdom
Friday, February 8 I House of Burlesque presents Love   We are over the moon to have the UK's top burlesque production house working with us. They started selling tickets with us back in December for their New Years Eve Masquerade and "Love" is their second show with us. House of Burlesque is run by the internationally known burlesque superstar Miss Tempest Rose 'a woman who oozes so much sex appeal she is probably illegal in several countries' (Recognise Magazine). Their new show is inspired by LOVE; its glory, beauty and glamour, but also its lust, longing and passion. Selecting their most beautiful and elegant routines designed to tug at your heart strings and ignite your passions this evening will present the absolute best in elegant and extravagant burlesque and cabaret. From 18th Century diva's, Parisian showgirls, to the glamour of Marilyn Monroe, this show will be the perfect night to revel in the glory of love.
Also, this Friday, January 25, the House of Burlesque will be hosting "Burlesque Idol Season 4" at Madame JoJo's. Burlesque Idol is London's biggest burlesque spectacular, featuring a dazzling array of budding burlesque talent. Each month's line up includes a carefully selected group of burlesque's most talented up-and-coming performers and top international burlesque stars and producers weighing in on who should be the next superstar.
[youtube http://www.youtube.com/watch?v=T9_YAKVdtnc]
Black Mountain, North Carolina
Saturday, February 9 | Christine Garvin presents Les Femmes Mystique at the White Horse  The night will be full of intrigue, comedy, charm, and just a little bump and grind. Set in a 20s Speakeasy, you'll ride out Prohibition with dances and tunes that span a century, and include a famous pink panther, a redneck woman on the edge, and a wind-up doll that will wind you up. Live music, hooping, and a bit of magic are also a part of the show, along with a few fabulously fun surprises.
New York, New York
Thursday, February 14 | Dark Carnival Burlesque presents…"The Valentine Show"!  Comedy! Burlesque! Magic! Candy! Raunchy ballads! Blood! Fetishes! Prizes! and of course…Buckets of Love! Hosted by The Góthic Hangman himself! Along with his Mistress in Mischief, Ms Kat Mon Dieu; starring Jawdropping Juliet Jeske, Buxom Broadway Brassy, Mysterious Magic Max, Rambunctious Ruby Solitaire, Puddin'-Lovin' Poison Ivory, Lovely Leta LeNoir and partner in crime Bruno Puntz Jones! With the Kitten stylings of the Italian Mistress, Lucille Ti Amore as that li'l devil "Cupid"!
Columbia, South Carolina
Thursday, February 14 | Henderson Bros. Burlesque  This year TRUSTUS Theatre teams up with WHAT'S LOVE to present The Henderson Bros. Burlesque – a sexy, bawdy night of live music, dance and song that will stir up whatever strikes your fancy ass! Highlighted will be a cast of more than twenty performers including a live band with brass, a male pole dancer, costumes, feathers and frivolity. In the Side Show Lounge guests will have a cocktail or two before the show and be entertained by a cast of characters with magic, card readings and other things to tempt. There will also be a peep show for those who dare. Additional options for the evening include a private four course dinner with chef Kristian Niemi. There is also a special Get Lucky Package that can be purchased that will show your partner what real love is.
Houston, Texas
Friday, February 15 | Houston Burleque Revue Presents: J'Adore Paris  Join the ladies of the Houston Burlesque Revue for an enchanting evening paying homage to the most romantic city in the world… Paris! Hosted by Al E. Cat. And Starring Lady Jae, Roo La La, St. Stella, Lauren Miller and  Sera Curran. With the burlesque début of Shana Nicole and Bella De Fuego. Along with special guest Vivienne Vermuth!
[youtube http://www.youtube.com/watch?v=sGmiIocmcBU]
Upcoming Burlesque Festivals! We are also super excited that two renowned burlesque festivals are using us for ticketing this year. Both are coming up in March and both sell out quickly so be sure to get your tickets well in advance!
Philadelphia, Pennsylvania
Friday, March 8 and Saturday, March 9 I PA Burlesque Festival (Second Annual)   Now in its second year, The PA Burlesque Festival comes to the historic Plays and Players Theatre in Philadelphia. Join the ever-effervescent Madame Corsetiere (Jim Thorpe Burlesque) as she hosts two world-class shows, bursting with the USA's most mesmerizing and most flavorful burlesque talent including living burlesque legend Penny Starr Sr.
Asheville, North Carolina
Friday, May 24 to Sunday, May 26 I Asheville Americana Burlesque and Sideshow Festival  We know this is a ways off, but we are absolutely THRILLED to be working with the Americana Burleque and Sideshow Festival. For seven years ABSfest has been bringing the Vaudeville Revival to Asheville.  This amazing festival offers a three day immersion that no lover of these arts can afford to miss. Savor their 7th year as they voyage the Seven Seas in a quest for the Seven Sins, with satin-sparkled starlets and fish-eyed zombie boys! Nominated for Best Show in the Mountain Xpress Readers Choice Awards, ABSfest has attracted renowned circus and burlesque artists from across the US, as well as Scotland, Germany, and Japan.